The last of our four main drivers of the Hero Wars is Jar-eel the Razoress, the Lunar superheroine. She was first introduced in White Bear & Red Moon:
Quote
Jar-eel the Razoress was official saint-hero of the Lunar Empire. She was head of the warrior discipline known as the Moonsword Cult, from which the Bloodspillers were drawn, and she carried that famous blade as a sign of her office. Her wry humor and spurious wit are revealed in her poetry, much of which survives today. During her lifetime a dour Lunar monk grudgingly admitted that she was "Happy and friendly, clever and beautiful, holy and deadly." These traits have survived with her, in hundreds of folktales still told today.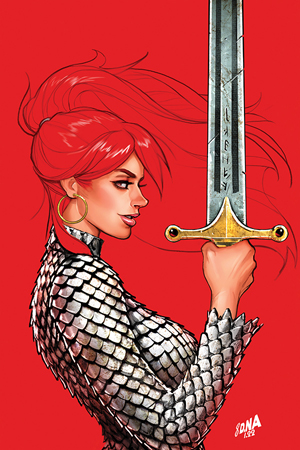 Let's not think of her as Miller's dour Elektra Assassin – her personality is "happy and friendly," she has a "wry humor and spurious wit." A true Happy Warrior, Jar-eel no doubt dispenses witty bon mots that are as sharp as her Moonsword. As witty as Dorothy Parker and Oscar Wilde put together, and a heck of a lot more charismatic and inspiring.
She is also the official "saint-hero" of the Empire, the head of a warrior discipline, and the one real rock star of the Lunar World. People have painted icons of her in their homes, put her on banners and shields display coffee table collections of her poetry.


And again, there is plenty of room for interpretation here. Jar-eel could be cheerfully amoral and ruthless, with a veneer of wry wit and smiles. She could be effortlessly awesome, a moral and artistic paragon, destined to combat savagery. She could be all of that, while doubts gnaw within her about her role, and whether she does in fact serve Gbaji.